About us
Motto:
"We don´t want to sell to our customers advertising and a beautiful packaging, but products to convince you, that you can get excellent QUALITY at a reasonable price."
Ing. Pavel Běčák - owner/director: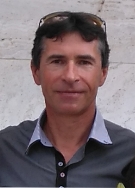 CAMELUS Ltd. is based on my experience in founding and managing the ostrich farm in Očová (since 1996). Besides marketing with ostrich meat, leathers and other original leather products, unused ostrich fat remained, which was an extremely interesting pharmaceutical and cosmetic material. Since 1998 we started working with a small Czech cosmetics company, which was producing first 4 "ostrich oil  products". While testing new cosmetic products, we have found, that we have an exceptional raw material, which has miraculous regenerative effects to the skin, including the treatment of dry eczema, arthritis, rheumatic and other diseases.
      With a lot of cosmetics in drugstores and pharmacies, when we're confident with their advertising, that their cosmetics have the best results (... and it's far from true!), I decided to introduce our own brand of cosmetic products, where we can guarantee to our customers the exceptional quality of each of our products.
      In 1999 I founded my own company CAMELUS Ltd., which is mainly focused on production and distribution of ostrich-oil cosmetics and other ostrich products (food supplement). "Ostrich-oil cosmetics" is manufactured exclusively for CAMELUS and the originality of the products is protected by a registered trademark. Nowadays are producing products (according to special recipes for us) 2 Slovak and 2 Czech companies, each of them is excellent in their area.
      Our customers are pharmacies, beauticians, masseurs, large- and small- organizations (we sell hand cream for workers too) and - of course, a lot of women at all age groups, who buy our products directly from us and every year is this number increasing, which makes us happy. We also have customers-club called "CAMELUS LADY", who are ordering our products with discounts and bonuses to each order for themselves and their acquaintances. Besides Slovakia they already know our products even beyond the borders - in the Czech Republic, Poland, Latvia, Russia, Germany, Hungary , Romania etc.
     Our philosophy is to offer to our customers healing properties of OSTRICH OIL in excellent quality for an affordable price. Every year we extend our range of cosmetic products. We are delighted, that despite the competition and advertising of large cosmetics companies, we are succeed.
We wish you a great health and beauty with CAMELUS cosmetics!